Bitcoin is the mother of all bubbles! It's popping! I always find it helpful to study history and above all the history of market speculation. This way I know what happened before and I get really skeptical if somebody tells me "This time it's different." It never is. In order to read up on history have a look at Charles Mackay: Extraordinary Popular Delusions and the Madness of Crowds, London 1841. No that's not a typo. This book is from 1841 and still in print so there must be something to it. A more recent book with more recent bubble history is Edward Chancellor: Devil Take the Hindmost, London, 2000. Both books discuss various speculative bubbles in history starting with the Dutch Tulip bubble. The lesson in all these stories is that bubbles eventually burst, they all burst. No exception. Now have a look at chart below: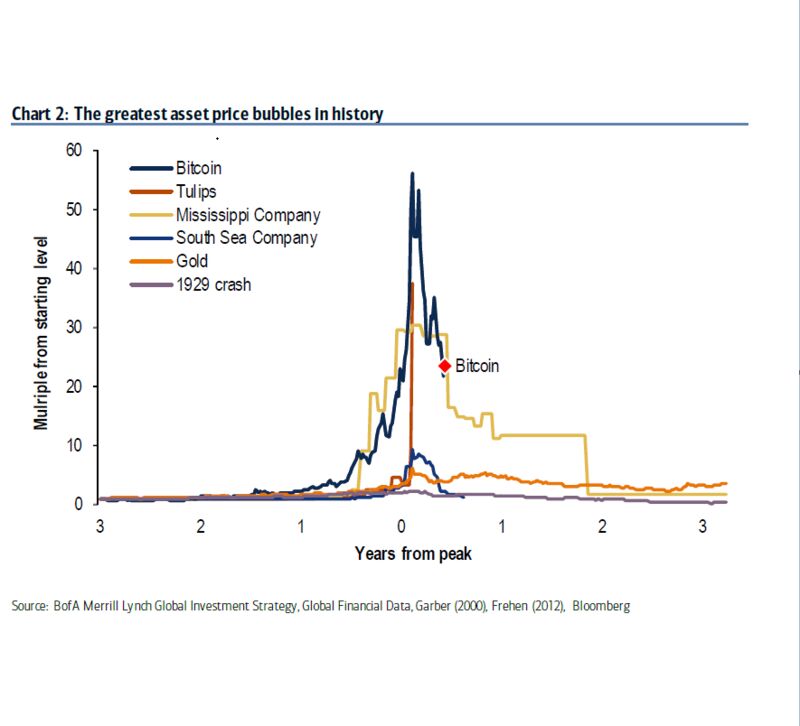 The chart compares the current Bitcoin move with various bubbles in history with the famous Dutch Tulip Bubble, the South Sea Bubble, the Mississippi Bubble and gold amongst others. The chart above shows that Bitcoin has increased around 60 fold from its base. This would then be the largest bubble ever recorded in history over the last 400 years. I'd call this the mother of all bubbles. Bitcoin has so far retraced around 60 % from it's top. If history repeats itself, the fall isn't over yet and Bitcoin should over time retrace most of its move pretty much back to base. All this is quite normal and should not surprise anyone who knows a bit of history of speculation.
Having said that the technology Bitcoin is based on, i.e. blockchain, is here to stay and will be applied in more areas over time. Many cloud service companies are now in the process of using blockchain technology. The ASX, for example, is developing blockchain technology to replace the CHESS settlement system. We are in the technological wild west, a bit like at the beginning of the internet. Exciting times with many winners but also many losers. Bitcoin, for my liking, will be the loser. Let's see how this story pans out and if "this time it's really different".